Economy. Population

Tourism

Nature


Forest Resources

Publications

About Website


The project is funded by
the European Union

A project implemented by
the City of Joensuu



According to Kuznetsov & Tokarev (2000), c. 15,000 ha of the Suojärvi District mires is sites with considerable cowberry growth. They yield 100 to 5000 ton of berries per year (about 1500 ton on average). Cloudberry-rich sites occupy some 10,000 ha in the district, their productivity also highly variable - from nearly zero to 1000 ton per year.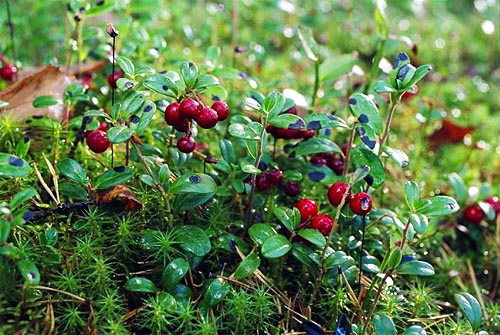 Fig.1. Cowberry
Belonogova & Litinskaya (2000) report that the district possesses significant resources of medicinal plants and wild berries (tab.). There is vast potential for raising the harvests of these non-timber forest products.
Tab. 1 Exploitable resources of some non-timber forest products
Resource
Areas of harvestable sites, ha
Stand area, ha
Stock (ADW*)
biological, t
commercial, â
Cowberry
leaves
5870
500
125
63
stalks
5870
500
150
77
Bilberry
fruit
1600
330
3
1
leaves
5180
890
67
33
Marsh Labrador tea
shoots
1960
490
250
176
Tormentil
roots
-
22
12
3
* - air-dry weight
In good years the district would yield up to 4,000 ton of cowberry and to 4,500 ton of bilberry. In lean years, the yield may drop to 200 and 200-300 ton, respectively.
Just a decade ago, various organizations harvested up to 3 ton of about 20 medicinal plant species. At present, harvesting is not so significant although all the pre-requisites for intensive utilization of medicinal plant stocks are available. The biological resources of the medicinal plants suitable for commercial harvesting amount to 607 ton. Annually, up to 353 ton can be harvested.
Data for the year 2001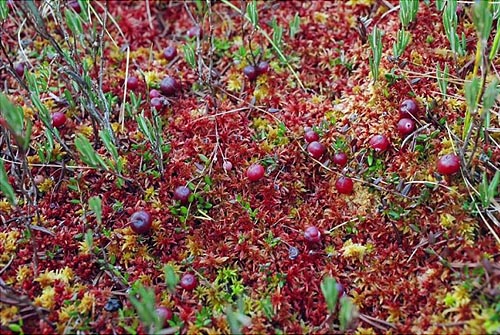 Fig.2. Cranberry